Give her a pencil or paintbrush and Kicki Yang Zhang will tell you a story in mesmerizing detail. From delicate illustrations inspired by her Chinese heritage to painted Chanel bags to charm tired eyes, Kicki uses her face as a canvas to create and communicate the causes she cares about. We saw this transformative power on set for the Polaroid Now+ campaign, chopping between cyberpunk and glam looks. So how does she do it? With no plan and plenty of color.
Developing: Why makeup? What compelled you to create in that particular space?
Kicki Yang Zhang: When I paint, it doesn't matter on what surface. The best part about it for me is the progress. It's really meditative and calming for me. When I finish a painting, I'm almost sad that it's over. But with makeup, since I have to wash it off at some point during the day, I can start over and over again with a new piece.
D: Talk us through how you create a look.
KYZ: I usually improvise it. I start by choosing the colors I feel like that day, lay them in front of me, and get a rough idea of what I want to do, and then I just begin. And in 95% of the cases, something good turns out of that. I have some days when it doesn't work too, but the great thing about makeup is that I can wipe it off and start again.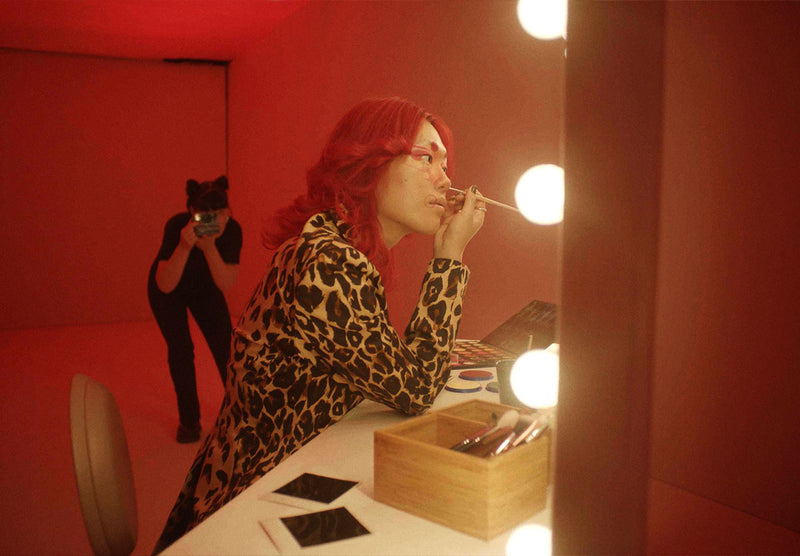 To experiment with aperture priority mode on the Polaroid Now+ camera, Kicki created a detailed glam look. She built a base of makeup first, and then filled in the finer details live on set.
D: We were lucky enough to collaborate with you for the Polaroid Now+ campaign, how did you approach that brief?
KYZ: The brief gave me a lot of cyberpunk influences, and I love this type of film and photography! My approach was to have something cyberpunk-y mixed with organic shapes that are typical for makeup that I do.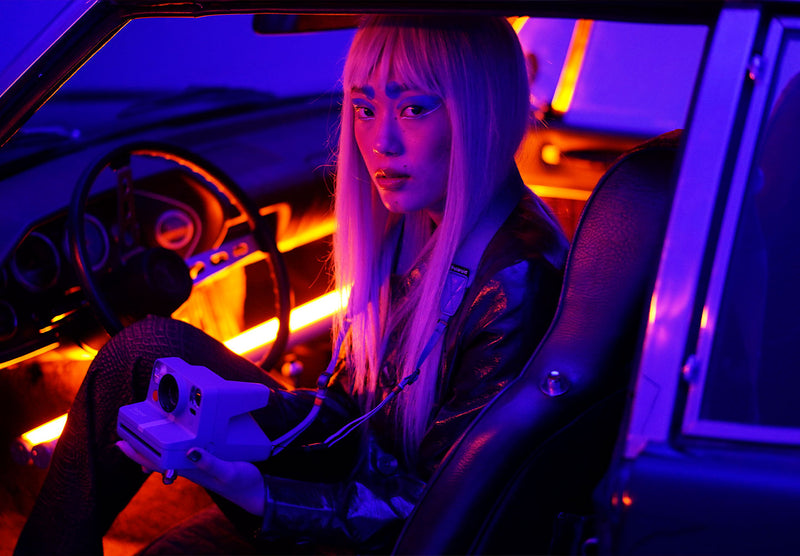 For this Polaroid Now+ experiment, we wanted to create a cinematic photograph with the camera's new long exposure tool. Using colored LEDs and a vintage car, Kicki transformed into a cyberpunk character using a gloss suit, platinum blonde wig, and electric blue eye makeup.
D: How does experimentation fit in your creative process?
KYZ: Since I mostly improvise my looks, experimentation is really important. I think it's only with experimentation that things will emerge that are new and interesting because the outcome is not determined in the beginning.
"Dare to try new things, and wear whatever you want on your face. The only one stopping you is yourself."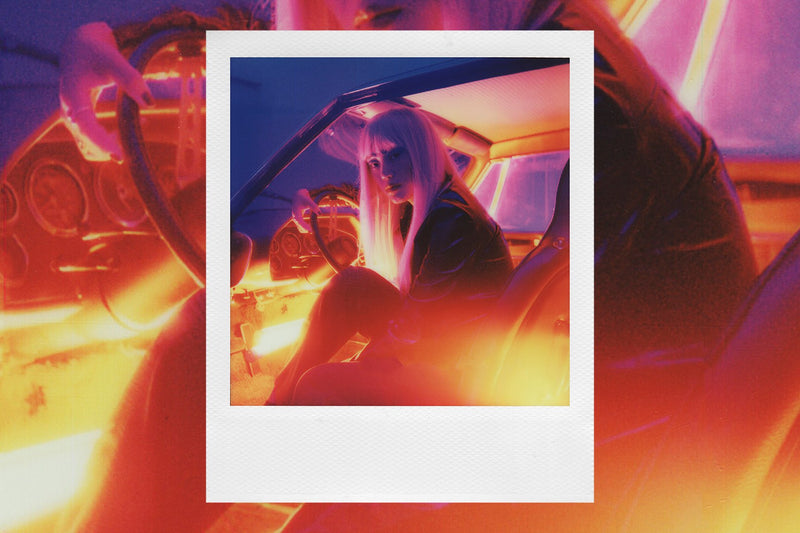 D: When did a makeup experiment go wrong, or turned out better than planned?
KYZ: I think most of them turn out better than planned. Especially the ones where I have to paint my entire face white for the base. At first, I look like straight out of American Horror Story, but after I added details and outlines it looks really good. Trust the process.
D: What influences or skills do you mix together to create your work?
KYZ: I think I'm really inspired by my culture. My mom taught me traditional Chinese calligraphy when I was in school. The concentration that comes from that really helps me create my looks.
Kicki as the face of our Polaroid Now+ aperture priority experiment.
D: Is there a surprising place you find inspiration?
KYZ: In daily conversations! One time a friend told me randomly she wants to move to Brazil one day and live in a treehouse. It inspired me to paint a treehouse but in the middle of the ocean.
D: What is something we wouldn't expect to find in your makeup bag? 

KYZ: A glue stick. Sometimes I use it to cover my eyebrows. Learned that from drag queens!
D: How does photography play a part in your work?
KYZ: Since makeup is something so temporary, photography adds the wonderful notion of having something that stays forever.
D: What message do you want to share as a creator?
KYZ: Dare to try new things, and wear whatever you want on your face. The only one stopping you is yourself.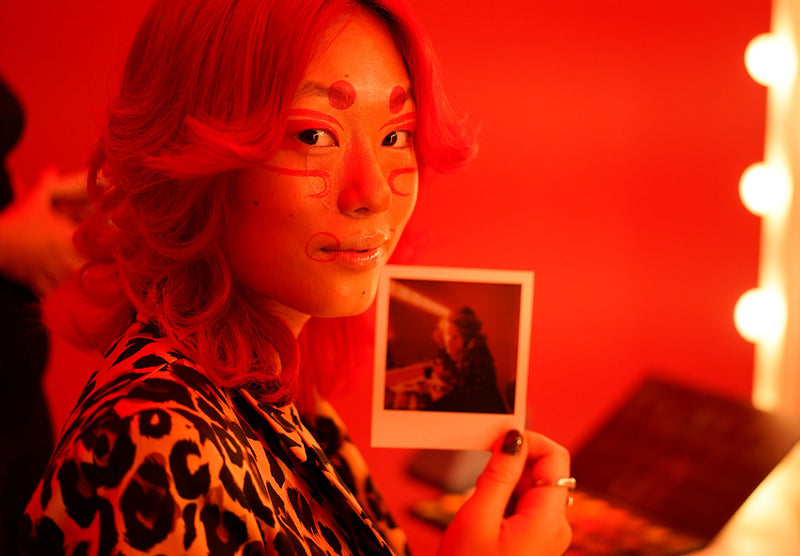 D: What is one thing you want to try, but haven't yet? 

KYZ: I would love to do a full body paint one day and turn into an alien or otherworldly creature.
D: Anything else to add?
KYZ: Eat your vegetables.
Learn more about this queen of transformation on her Instagram @kickiyangz. Or capture your creativity with the new Polaroid Now+ connected camera.