Our modern analog instant cameras are made for the moment maker and creative within. Explore the differences between the Polaroid Now and Polaroid OneStep+ to help find the instant camera that's right for you.
The Polaroid Now and Polaroid OneStep+ share these features: the point-and-shoot simplicity, self-timer, a flash you can turn on and off, along with a rechargeable battery. They also use i-Type film, which is a new instant film that's battery free, so it's a little friendlier on the wallet. Both cameras make it simple to take great Polaroid photos. Deciding between them comes down to taste and the sort of photographs you enjoy taking.
The key difference between both cameras is how you use them. The Polaroid OneStep+ connects to your phone via Bluetooth® to unlock extra creative tools within the Polaroid Originals mobile app including light painting, manual mode, double exposure, remote trigger, noise trigger, self-timer, and portrait mode. Whereas the Polaroid Now has some of these features, such as double exposure, built into the camera without needing your phone.
The next difference is the focus. Both cameras have portrait and landscape lenses, but the Polaroid Now has autofocus, so you don't need to choose which lens you need, the camera does it for you. With the Polaroid OneStep+ you need to choose this yourself using a switch on top of the camera. You can choose between 1-3 ft (0.3-0.9m) and 3 ft (0.9m - ∞). So the OneStep+ allows you get to closer than the Polaroid Now which starts at 0.55m (1.8 ft).
Outside of features, there's the design of the cameras. The Polaroid Now has a smooth, rounded shape and comes in the colors of the Polaroid Spectrum, plus black and white. The Polaroid OneStep+ is inspired by the original OneStep camera from the '70s, so it has a retro look and feel.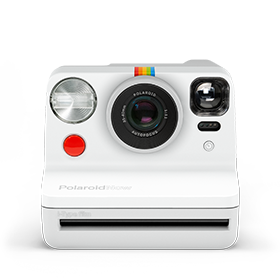 Now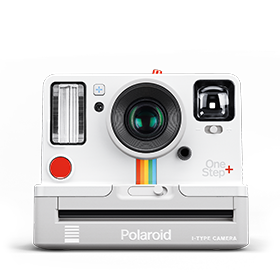 OneStep+
Translation missing: en.product_compare.title

| | | |
| --- | --- | --- |
| Portrait and landscape lenses | | |
| | | |
| | | |
| | | |
| | | |
| | | |
| | | |
| | | |
| | | |
| | | |
| | | |
| | | |
Shop Polaroid Now Instant Cameras
Shop Polaroid OneStep+ Instant Cameras